Elevated Grand Isle High School Gymnasium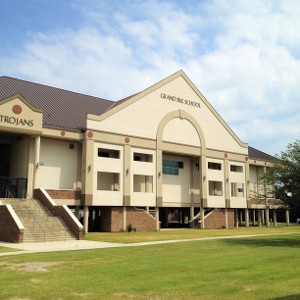 Grand Isle, Louisiana
Client :: Jefferson Parish School Board
A hurricane rebuild project, this new 22,000 square foot elevated cast-in-place concrete gymnasium, band room and classroom building was designed and built to withstand the storm.With 8" precast concrete walls and galvanized steel trusses, the peak of the roof rises approximately 70 feet above the ground. The foundation for the structure consists of approximately 471 sixty-foot timber piles with associated concrete pile caps and grade beams. In placing the foundation, the water table was encountered two feet below the existing grade, requiring a wellpoint system to complete the foundation work. Included in this new facility are:
Monumental stair and bridge in either end of the breezeway that separates the educational functions from the gymnasium.
Gymnasium with one basketball court, bleachers, performance platform with wheelchair lift, concession area and support areas.
An 86' concrete pedestrian crossing bridge connection the existing Administration Building to the gym.
Spacious band room with a main orchestra space; two practice rooms, accessible restroom, and a storage room.
Two classrooms connected by a vestibule corridor to a shared accessible restroom.