Ribbon Cutting at Vantage State Building
April 5, 2017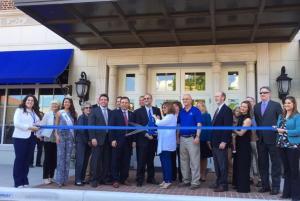 Lincoln Builders was honored to join Vantage Health Plan in cutting the ribbon on its recently renovated historic Vantage State Building. The renovation and repurposing of the 1924 Virginia Hotel into the new Vantage State Building in downtown Monroe, Louisiana, was a herculean endeavor, as Lincoln Builders worked hand-in-hand with the owner and architect to uncover and restore much of the building's historical elements that had been completely covered by drop ceilings, wall coverings and floor coverings during a 1960s renovation. The result is the return of the building to its original grandeur, while incorporating amenities that are characteristic of a 21st Century office building.
Ribbon Cutting at Northshore TCC STEM Building
March 6, 2017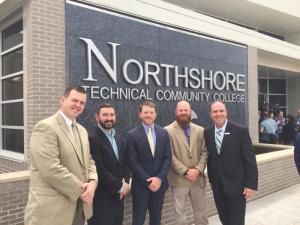 Lincoln Builders of Baton Rouge joined Louisiana Community Technical College System (LCTCS) for the ceremonial ribbon cutting at the recently completed new Science, Technology, Engineering & Math (STEM) campus at Northshore Technical Community College in Lacombe, Louisiana. Lincoln teamed with Chenevert Architects LLC to design and construct the 32,000-square-foot facility, which includes academic offices and classrooms, science labs, a center for innovation, an outdoor lab, general studies classrooms, and support spaces such as administration, financial aid, faculty offices, conference rooms and general use.
Pictured are Chancellor William Wainwright (right) with Lincoln's Baton Rouge project team VP-Operations Keith Keller, Project Manager Russ Russo, Project Superintendent Courtland Foley and Field Operations Manager Justin Whittington.
Lincoln Breaks Ground on Istrouma High School
December 15, 2016
Lincoln Builders broke ground December 14 on the renovation of historic Istrouma High School in Baton Rouge, Louisiana. The $21 million project will include renovations to the old buildings, as well as more than 11,000 square feet of new space.
Istrouma High first opened in 1917 and moved to its current location off Winbourne in 1950. "Istrouma will celebrate 100 years when it reopens in the Fall of 2017 with a wide range of college preparatory and workforce development programs for students," the East Baton Rouge School System wrote in a news release about Wednesday's groundbreaking.
The school is expected to be able to accommodate 1,200 students and will include a media and health center. Phase one is expected to be complete by August of 2017.
Pictured at the right are East Baton Rouge School Superintendent Warren Drake (left) with school board members.