Lincoln completes VCOM Facility
June 2, 2020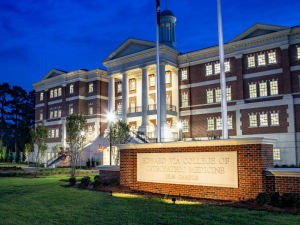 Lincoln Builders is proud to announce the completion of the Edward Via College of Osteopathic Medicine on the campus of University of Louisiana at Monroe. This beautiful 100,000 square foot four-story precast and masonry structure is located on a 10-acre campus directly on Bayou Desiard in Monroe, Louisiana.
The VCOM organization currently has four campuses in the United States with Auburn, Alabama being the most recently completed prior to the Monroe campus. Originally, the VCOM owners intended to engage the nationwide construction firm that built the Auburn campus for construction of the Monroe facility. After an agreement was made with ULM, Lincoln Builders' team submitted "The most impressive bid package and portfolio that I have seen during my 17 years managing projects for VCOM," said Bill Price, VCOM's Vice President for Operations. Lincoln was then selected as the general contractor for this large project.
The project was set to begin in September 2018, but due to a delay of legal documentation between ULM and VCOM, Lincoln was not allowed to begin work until October 31, 2018. Even with a significant delay, Lincoln still met their December 2019 deadline with no increase in contract price. Instead, Lincoln worked very closely with the architect and owners to value engineer and deliver a very successful project that all parties were happy with.
The main facility offers two theater-style high-tech classrooms, a state-of the-art anatomy lab, 20 small-group rooms, four conference rooms, student lounges, food service, and a library. High-definition video projection and recording allows all presentations to be recorded and later displayed through VCOM TV for student review.
The Simulation and Technology Center in the facility houses all Medical Simulation and Technology, which includes clinical medical procedural skills laboratories, simulated patient exam rooms with recording capability and EMR technology, patient simulation laboratories, and high-tech mannequin simulators for pediatric, adult and obstetrical procedural training. The osteopathic manipulation and physical examination lab provides electronic tables which are located within the facility along with a small group classroom theatre. State of the art, high definition video capability assures optimal education.
This medical school will host an inaugural class of 160 students beginning sometime in late summer 2020 and is predicted to have a $70-80 million impact in the northeast Louisiana market.
For more information and project photos Click Here
Lincoln Honored with Business of the Year!
January 28, 2020
Lincoln Builders, Inc. was honored recently as recipient of the 2019 Business of the Year award by the Ruston-Lincoln Parish Chamber of Commerce. Nomination criteria included evidence of integrity in business, leadership in and contribution to the community, and innovative thinking. Receiving the award at the annual chamber banquet was CEO Clint Graham.
For Lincoln Builders, integrity is a family trait that started with founder Hollis Graham and was passed on to his sons Ronny and Danny. It is now evident in the current CEO, grandson Clint Graham. This model of integrity trickles down to every employee in the company, where it is lived out daily in the offices and in the "trenches." In true keeping with its' mission statement, Lincoln seeks to "identify, recruit, and retain the very best people of integrity." The result is an average retention rate among employees of around 20 years.
The Lincoln Builders family truly loves its' hometown of Ruston, and our commitment to the community is rock-solid. We are privileged to be named among the finest businesses in the area. Thanks to the Ruston-Lincoln Parish Chamber of Commerce and the amazing people it represents for bestowing this honor on us.
ION Baton Rouge Phase 1 Complete
October 1, 2019
Lincoln Builders recently completed phase 1 of the ION Baton Rouge renovation project near the campus of Louisiana State University in Baton Rouge. This 286-unit, 5 story apartment complex was originally constructed by an out of state contractor, but was continually plagued by water intrusion and craftsmanship issues. Lincoln Builders was tasked with removing, replacing, and waterproofing the entire exterior of the building (stucco and cement siding) to alleviate the water infiltration issues. In addition to the major exterior overhaul, Lincoln also renovated and refurbished 400,000 square feet of interior, including structural corrections plus renovation of the 1st through 5th floor/6th floor penthouses, as well as, the roof top outdoor/pool deck feature. Many other interior updates included the indoor gym, entertainment area, and approximately 20,000 square feet of offices. Although Phase 1 is complete; the project, in its entirety, will be complete in early 2020. Lincoln has worked around the clock to make sure this project was on schedule for the 2019-2020 school year.