Istrouma High School Improvements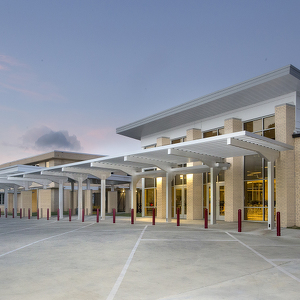 Baton Rouge, Louisiana
Client: East Baton Rouge Parish School Board :: Baton Rouge, Louisiana
Award: Baton Rouge Good Growth Coalition - 2018 Good Growth Award
Lincoln Builders is honored to have a part in the rebirth of Istrouma High School. After being shuttered twice in a decade, a ground swell of community and alumni effort resulted in a plan to bring back the proud historic institution as a catalyst for reconnecting the youth of this area with their community.
With the renewal of the school, students throughout the district have the opportunity to pursue technical skills and strong academic programs to prepare them for life after high school. Additionally, the return of athletics provides opportunities that have not been available for many years.
The $21 million project was designed to accommodate 1,200 students and included renovation of the 120,000 square-foot campus including more than 15,000 square feet of new space. The scope of work consisted of:
• Interior renovations to restrooms, classrooms, faculty and staff areas, utility and commons areas,
including electrical, HVAC and plumbing additions and upgrades;
• Renovations and additions to the Commons Building including new dining area and food
service support spaces with new kitchen equipment and walk-in cooler/freezer. New band and
choir spaces are also included;
• Renovations to Gymnasium Building with renovated locker rooms and a new weight training
addition;
• Security and fire alarm system enhancements;
• Replacement of all exterior doors and windows; reworking roof; installing new pavement,
walkways, pedestrian canopies and neighborhood sensitive fencing; and
• Improvements to the athletic fields with new walkways, site lighting, and concession buildings.
Istrouma High first opened in 1917 and moved to its current location off Winbourne in Baton Rouge in 1950. The school celebrated 100 years with the reopening in the fall of 2017.