J. C. Love Field at Pat Patterson Park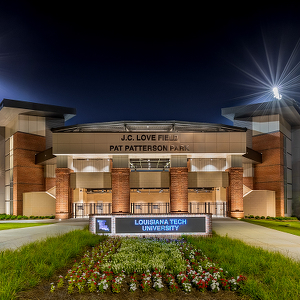 Ruston, Louisiana
Client :: Louisiana Tech University
Capacity of 2,100
Player locker room, coaches' locker rooms, coaches' offices
Athletic training satellite room
Team meeting room
Player lounge, equipment/laundry rooms
Determining the scope of damages caused by a ravaging tornado required the contractor's early involvement with the Owner and Design Team. Lincoln Builders was chosen to provide Construction Manager at Risk (CMAR) services to demolish and rebuild many athletic facilities on Louisiana Tech's campus that had been damaged beyond repair:
J. C. Love Baseball Stadium, field and support facility
Women's Soccer and Softball Complexes and fields
Repairs to tennis facilities
Track and Field
During the process of identifying the scope of damages and assisting the designer in planning the rebuild, the University had the opportunity to reimagine the athletic facilities' locations and improve utilization of available spaces.
Press box features four suites, radio booth for home and visiting teams, scoreboard productions, TV productions and booth for the writing press.
The state-of-the-art was facility completed in 27 months with LA Tech absent from their home field only one season. Meeting all critical dates was only possible by pricing and completing an early work bid package consisting of site work, site utilities, concrete foundations, and structural steel prior to completion of design and final pricing.
"In less than two years from the tornado, the Baseball team was practicing in the new facility; and in less than 27 months construction of the new $30+ million facilities is complete. Lincoln Builders was a key part of the CMAR team that exceeded expectations of many experienced with this scale of demolition and construction. The dedication, skill and flexibility of Lincoln Builder's team was evident to all that participated in this recovery project."

Leslie K. Guice, President-Louisiana Tech University