Davison Athletics Complex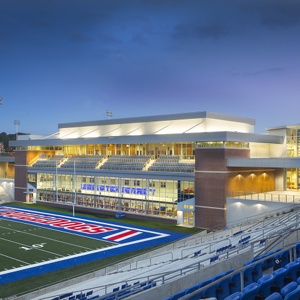 Ruston, Louisiana
Client :: Innovative Student Facilities, Ruston, Louisiana
New state-of-the-art strength and conditioning complex
Football coaches' offices
Football locker room
Team and position meeting rooms
Club seating
Multi-functional dining space
This 70,000 square foot end-zone athletic facility benefits all of Louisiana Tech University's student-athletes from all 16 of the University's athletic programs. The club level includes:
Luxury premium seating options with 302 chair back seats
Multi-functional dining space seating up to 360
A private dining room with field view
A full service commercial kitchen.
Delivery of this very complicated construction in a nearly unfathomed time frame of 495 days with no days allowed for adverse weather (100 weather days experienced with loss of production), unforeseen conditions, or any other normal causes. Rigid planning and execution of the plan allowed us to meet and exceed the owner's expectations on this project.
"Over the past four years I have had the privilege of working with Lincoln Builders on multiple projects at Louisiana Tech University. The team that we had was incredible and the projects could not have been completed on time without their leadership. They were professional and honest throughout the four-year period that we worked with them on these projects. I cannot give a higher recommendation to the entire Lincoln Builders team."


Thomas H. McClelland, II
Former Director of Athletics, Louisiana Tech University