LSU Residential Housing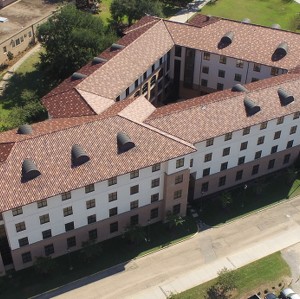 Baton Rouge, LA
Client: Facility Planning and Control
This Student Suites housing complex was built on the site of an old dormitory unit. It consists of 14 three-story buildings with a total of 696 bedrooms and an activity center. Lincoln Builders was responsible for Phase 2; buidlings 3 and 4 of this project.
Building 3 is an energy-efficient, state-of-the-art residence hall featuring all of the amenities that the 21st century college student has come to expect. Building 3 houses first-year students in 2-student, suite-bath rooms, who have a declared major in the College of Engineering.
Like all of the residence halls in the RCC, Building 3 has a large, well-furnished common area with a big-screen TV, and common areas on every floor set up as libraries, study rooms, or general activity rooms. There are small study rooms in every wing, as well as a modern kitchen and laundry facility on the first floor for all residents to use. There are outdoor patios, balconies, and a large outdoor courtyard, all with wireless internet access.
Building 4 has several offices, a seminar room, and a student and copy workroom on the first floor with a faculty residence on the second and third floors (living room, dining room, kitchen, and office/library on the second floor with four bedrooms and a sitting room on the third floor).