Vantage State Building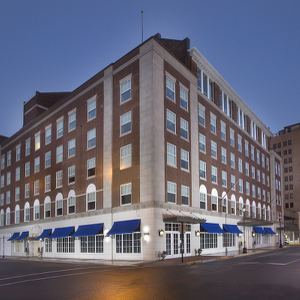 Monroe, La
Client :: Vantage Health Plan
Award :: Engineering News Record (ENR) "Best Projects of 2017" Award of Merit-Renovation/Restoration
The renovation and repurposing of the 1924 Virginia Hotel into the new Vantage State Building in downtown Monroe, La., was a herculean endeavor, as Lincoln Builders worked hand-in-hand with the owner and architect to return the building to its original grandeur, while incorporating amenities that are characteristic of a 21st Century office building.
Most challenging on this project were:
Not only were most of the building's historical elements completely covered by drop ceilings, wall coverings and floor coverings during a 1960s renovation, significant damage had been done to existing architectural features.
Furthermore, no plans for the original structure could be found, forcing the project team to work in a uniquely collaborative fashion so that historical features could be exposed, thereby allowing the architect to complete designs.
Throughout the process, preservation of historical elements was critical:
Perhaps most noticeable is the reconstructed ornamental plaster in the building's grand atrium, as well as the marble floors and ornate handrails scattered throughout the building.
Materials that had been added to the building over the years were removed and repurposed elsewhere, including granite on the building's exterior that covered up the original limestone. This beautiful granite was removed, refurbished and repurposed as interior countertops.
Lincoln Builders' dedication to this architectural restoration was perhaps best summed up by project architect Mike Walpole: "Undoubtedly, one of the keys to the success of this project has been the level of collaboration. As a result, the owner is happy, and I'm very happy with the quality of work that Lincoln has produced."