Lincoln Selected to Construct New Community Health Center in Monroe, La.
May 28, 2013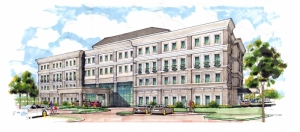 Lincoln Builders was recently selected to construct the new Community Health Center for St. Francis Medical Center on Tower Drive in Monroe, Louisiana. Construction is underway with site stabilization and preparation for the foundation of the 92,000 SF four-story building.
Lincoln Builders of Ruston appreciates the opportunity to continue its service to St. Francis Medical Center and to work with their designer, Carroll Blewster of Bradley-Blewster & Associates.
More Lincoln Builders News