Lincoln Preparatory School Breaks Ground on New K-12
November 4, 2021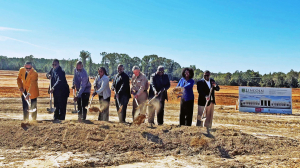 Lincoln Builders congratulates Lincoln Prep on its groundbreaking ceremony for the new state-of-the-art Lincoln Preparatory School K-12 complex in Grambling, Louisiana this week. "This is an amazing day," said Gordan Ford, executive director of Lincoln Prep. "Our faculty, staff, students and community are so excited to finally reach this day. We can't wait to move in next school year."
The new Lincoln Preparatory School campus is scheduled to open in November 2022. The campus will feature a 100,000 sq. ft. classroom building, with a library; science, computer, and robotics labs; a school-based clinic; a 1,000-seat gymnasium, with locker rooms, workout and training spaces; along with a new football stadium; fieldhouse; and future baseball and softball fields. Also included in the design is the state-of-the-art Grambling Heritage Museum as part of the school's library.
From onset of the project design, Lincoln Builders' team was intimately involved with Lincoln Prep, M3A Architecture of Jackson, Mississippi and project manager Volkert, Inc. working toward the goal of a facility that will support 1,000 students. With assistance from our subcontractor team, we were able to offer extensive savings that helped us arrive within budget without reducing square footage or sacrificing the integrity of the facility, in spite of the material price increases due to the COVID-19 pandemic.
Pictured from left are Grambling State University President Rick Gallot, Louisiana State Rep. Patrick O. Jefferson, Lincoln Prep Chief Operating Officer and Athletic Director Glen Hall, City of Grambling Planning & Zoning Director Mary Gipson, Executive Director of Lincoln Prep Gordan Ford, Grambling High Foundation Board members Hollis Downs and Edwin Watley, Greater Grambling Chamber of Commerce President Barbara McIntyre, and Grambling High Foundation Board of Directors President Robert Wiley.
More Lincoln Builders News