St. Francis Medical Center - Infusion Center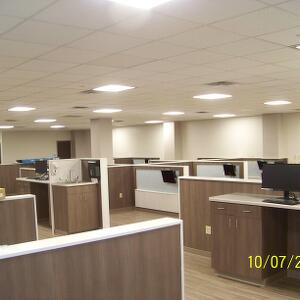 Monroe, Louisiana
Client: St. Francis Medical Center
Lincoln Builders renovated 12,000 square feet at St. Francis Medical Center to house the new Infusion Center. With 6,000 square feet completely gutted, the project time from reframing to move in was only 11 weeks. The new facility includes:
25 infusion bays each with their own reclining chairs and televisions with headphones
1 private infusion room
1 biopsy room
9 exam rooms (2 new & 7 renovated existing)
new labratory
a new phlebotomy/triage room
4 nurse stations (3 new & 1 renovated)
5 renovated restrooms
3 physician's offices (1 new & 2 renovated)
1 physician's assistant office (renovated)
a breakroom with adjacent locker room (renovated)
6 general offices (all new spaces)
The new facility allows for easier treatment all in one location as previous chemotherapy treatments were at a secondary location. It also allows for more comfort for those who are receiving treatments. This new facility is a fantastic addition to the local healthcare provided for the community.
"It looks excellent! Thank you so much for working hard and getting it across the finish line on time."

Jason Saucer (V.P. Construction)