Pressbox Expansion Project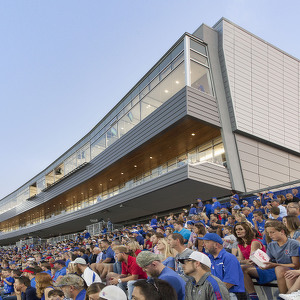 Ruston, Louisiana
Client :: Louisiana Tech University Foundation :: Ruston, Louisiana
Award :: Engineering News Record (ENR) "Best Projects of 2018" Award of Merit-Sports/Entertainment
Down with the old and up with the new! Lincoln Builders of Ruston was selected to design and build a new press box to replace the existing facility at LA Tech's Joe Aillet Football Stadium, which had become unsuitable to the university's needs. The new facility upgrade replaces the old press box erected in 1968 and the Sky Box that was added to the stadium in 1985. It was imperative that the construction be done between football seasons, so Lincoln had 10 months to perform their task.

The lower level of the facility features 14 premium suites, including a president's suite, that can each accommodate 20 people with 12 outdoor seats. The press box on the upper level accommodates as many as 60 media members with television and radio booths for home and visiting teams and includes state-of-the-art technology and connectivity.
Concurrent with the construction was replacement of the field lighting with updated LED lighting.
"Lincoln Builders exceeded our expectations on the finished product. They communicated with us on such a frequent basis that we felt as though we were one team working on this project together."

-- Thomas H. McClelland, II, Director of Athletics, Louisiana Tech University
More info on this project: https://bit.ly/2aJK9RC :: https://bit.ly/2EDoV4Z
Photography by Shields-Marley Architectural Photography and Louisiana Helicam