T. Baker Smith Baton Rouge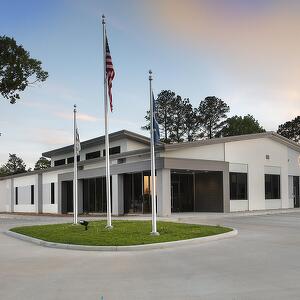 Baton Rouge, Louisiana
Client:: T. Baker Smith
Lincoln Builders' South Louisiana office was invited to design-assist in providing a new facility for T. Baker Smith (TBS), a civil engineering firm relocating its growing Baton Rouge operations. Goals for the new campus included improving operational efficiencies in the work spaces, accommodating future expansion, efficient site utilization and expediting the construction schedule.
To meet these goals, Lincoln Builders acquired an understanding of the owner's operational process and use of large specialty survey equipment. Working in tandem with Greenleaf Lawson Architects, we explored multiple structural options to maintain the project budget and improve on the schedule.
The result is an innovative 8,500 square-foot office space with modular interiors suitable for reconfigurability and advanced AV capabilities for training and collaboration with other TBS offices. Use of PEMB rigid-frame construction with clerestory windows added to the building's efficiency by providing abundant natural lighting. Site adaptation provides for future growth without impeding large existing trees on site. Also on campus is a separate 4,000 square-foot survey building with exterior work bays for equipment.
Lincoln Builders has been providing our clients with winning solutions for almost 60 years by making excellence and accountability our priorities.